Suffered Injuries as a Pedestrian as the Result of an Automobile?

We Can Help.
Rancho Cucamonga – San Bernardino Pedestrian Accidents
There are numerous reasons pedestrian accidents can occur. Pedestrians may step out from behind a parked car or truck into oncoming traffic, not realizing that the drivers of those cars have no way of being alerted to their presence before it is too late to take any actions. Children may dart out into the street with little warning. A bus or commercial freight vehicle may jump a curve while making a tight turn and clip a pedestrian on the sidewalk. There are almost as many ways for a pedestrian to be injured as there are ways to be involved in a traffic accident.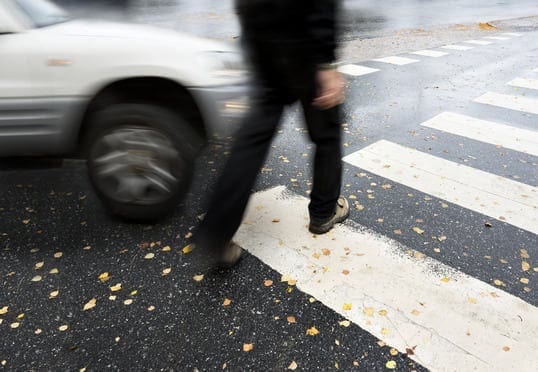 Contributing To The Accident Is Not A Bar To Recovery
Even if you contributed to causing the accident in some way or believe you may have contributed to causing the accident, this does not bar you from recovering for your injuries in the state of California. California operates under the pure comparative fault rule. This means that the plaintiff will still recover damages after his or her percentage of fault has been deducted, even if the plaintiff was 99 percent at fault.
Even if you believe that you have contributed to your accident, it is still a good idea to consult with an attorney. An attorney can help determine who is truly at fault by uncovering facts surrounding the circumstances of your accident.
If you have been in a pedestrian accident, there are a number of steps you should take to ensure the best outcome.
Seek medical attention: Even if you don't believe your injuries are very serious, it is always a good idea to seek immediate medical attention. Many pedestrian accident injuries are internal and may not be evident at first. It is also possible that the opposing attorney could use your lack of medical attention as proof that your injuries are not very serious.
Gather evidence: Any documentation that is possible should be collected. Pictures of the injuries or accident, witness statements, police reports and anything else that can help prove your case should be included.
Contact an experienced personal injury attorney: An attorney can work with you to collect evidence and witness statements and to assess your case.
A pedestrian is injured in a motor vehicle accident every eight minutes in the United States, and one is killed every 113 minutes. Highly populated areas have a much higher rate of pedestrian accidents. In many cities it is important to be just as careful while a pedestrian as you are driving a car. Pedestrian accidents can result in serious injury and even death. These accidents occur for a number of reasons and many of these accidents occur as a direct result of negligence of the driver. Instances of negligence include:
Speeding
Driving under the influence of alcohol or drugs
Ignoring traffic laws or signs
Jumping signals or changing lanes without caution
Distracted driving such as texting
Half of all pedestrian accidents including children occur between 3:00 and 4:00 p.m. as children are making their way home from school. These accidents occur in school zones as well as boarding and disembarking school buses. Small children may be less attentive to potential dangers and drivers may be less likely to see the smaller pedestrians which greatly increases the chance of accident.
According to the Centers for Disease Control, in 2013:
4,735 pedestrians were killed in traffic accidents across the United States
701 of those occurred in California, making California one of the states with the highest pedestrian fatality rate
Another 150,000 pedestrians were treated in emergency rooms for injuries related to automobile accidents
Adults over the age of 65, the elderly, and children are the most likely to die in a pedestrian accident.
The elderly account for 19 percent of all pedestrian deaths and 10 percent of all pedestrians injured
One in every five children under the age of 14 who were killed in traffic crashes were pedestrians
The majority of pedestrian deaths occur in urban areas, in non-intersection locations at night time when visibility is at its lowest
Alcohol involvement was reported in 49 percent of all traffic crashes that resulted in pedestrian fatalities
Contact A Professional Rancho Cucamonga – San Bernardino County Pedestrian Accident  Attorney
Many pedestrian accident victims think that they can resolve their injury claim directly with the other party's insurance company. This is a mistake. Insurance companies are in the business of limiting payouts. They will do everything possible to limit your claim and stall any payouts. A professional Rancho Cucamonga – San Bernardino pedestrian accident attorney can protect you from being taken advantage of and can work to get you the payout you deserve.
If you or someone you know has been in a traffic accident with a pedestrian or is a pedestrian who has been injured in a traffic, you should consult with the attorneys at the Law Offices of Justin H. King. An experienced personal injury attorney can help you establish the facts of the accident, determine liability in your case, negotiate a favorable settlement and if necessary zealously represent your interests at trial. Do not go it alone in your pedestrian personal injury claim. Contact us today for a confidential free case evaluation.
Justin King - Pedestrian Accident Injury Attorney in Rancho Cucamonga Serving San Bernardino County.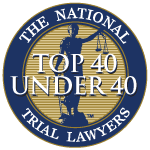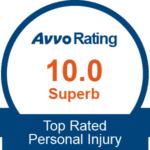 At The Law Offices of Justin King, we understand the serious consequences that injurys from accidents as a pedestrian can have on your life, family, and future. Our experienced injury attorneys work hard to ensure that your legal rights are protected and that you receive the compensation you are entitled to for your injuries. We are experienced in negotiating settlements with opposing counsel, and insurance companies, and will strive to obtain the best possible result for you, regardless of the severity of your injuries. Our office also represents victims in common injury claims such as auto accidents, dog bites and more.
Contact Justin H. King: No Obligation - Always Confidential
If you or someone you know has recently been a victim of an injury as a pedestrian we are here to help. Our no obligation and confidential case evaluation provides important details about your rights and responsibilities after an accident. Use our case evaluation form here to get in touch and learn what you need to know now. Pedestrian accident cases are time sensitive so understanding your rights sooner may make all the difference.
Most caring and amazing lawyer - Justin was more than helpful and amazing since the day my husband and I hired him. One thing that stuck out the most to me was his genuine personality. He made me feel more important than just another client. I remember in the beginning of the case we spoke very often over the phone. He called to give me some new information concerning the case and to ask me a few questions. At the end of our conversation we hung up and a few moments later he called back just because he wanted to ask how I was doing with the injury I was suffering from, and to see how I was progressing. He always took his time to see how I was doing, and fought very hard to see me get what I deserved. My case lasted two years, and I'm sure there wasn't a week that went by where I didn't hear from him. He always kept me up to date and informed about what was happening in the case. He went far and above anything I could have ever expected and helped me get the results I could not even of imagined. I don't hope to ever need a personal injury attorney ever again but if I do I would hire Justin over and over again, and recommend him to everyone I know. I loved working with him. Visits to his office and phone calls from him were always very welcoming…..read more on our 'testimonials' page.
Kendall, originally posted on Avvo.