Personal Injury Attorney Representing Victims
of Traumatic Accidents & Serious Injuries in Fontana, CA
Were You Injured or Did Someone Harm You in Fontana, CA? You Need a California Personal Injury Attorney as Your Legal Advocate. You or your loved one was injured in Fontana, CA?  Maybe you were driving your car when someone hit you and caused serious or traumatic injuries. Maybe your primary care physician was supposed to treat or cure your illness, but caused additional harm and physical and mental devastation instead. Whatever the reason you were injured in, you have the right to file a personal injury claim and be compensated for your damages. A personal injury claim is a legal dispute involving two or more parties. One party, the plaintiff, is injured or somehow harmed. The other party or parties, the defendant, may be legally responsible for the harm done.
Over the past few decades Fontana, CA has seen a dramatic shift in population, industry and residential growth. Due to the overall geographic size and availability to grow, Fontana, CA is even still seeing more and more growth in all areas. With this continued increase in population, commercial and industrial businesses as well as an influx of national retailers, Fontana, CA provides a climate for the potential for people to fall victim of all types of accidents and injuries that can be both serious and life altering for them and their families.
Fontana, CA with the diversity of business and population, any number of accidents can occur resulting in a diverse range of serious and lasting injuries. The busy 210, 10 and 15 freeways can be a hotspot for major auto, car and trucking accidents. Major medical facilities are never free of a potential medical negligence accidents and with major industry and retail, workplace accidents can occur without notice. Furthermore, as Fontana, CA continues to grow these risks become more a risk to the residents and employees that live and work in Fontana, CA.
Justin H. King is recognized as one of the preeminent personal injury litigation attorneys in the Inland Empire.  Justin has built his reputation, one case at a time, by vigorously and compassionately representing injury victims against insurance companies and Justin has achieved numerous six and seven figure results for his clients.
Justin has an AV Preeminent Peer Review rating from Martindale-Hubbell which is the highest rating a lawyer can receive for legal ability and ethical standards and is reserved for just 8 percent of lawyers nationwide.  In 2015, Justin was named by the National Trial Lawyers to its list of Top 40 Under 40 Civil Plaintiff Lawyers and in 2016 the National Trial Lawyers named Justin to their list of Top 100 Civil Plaintiff Trial Lawyers.  In 2017, Justin was named a Southern California Rising Star by Super Lawyers Magazine and as a Top Attorney in Southern California (Rising Star) by Los Angeles Magazine. Learn more about Attorney Justin H. King here.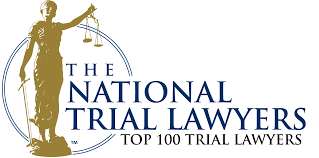 Wow, what more can I say about Justin King other than I am so thankful that I met him!
Justin King is not just a lawyer, he is someone that you can trust. When I first found out that I needed a lawyer for my case, I was a bit weary and quite frankly didn't know where to start. That all changed when I sat down and began talking to Justin. He didn't just glaze over my case, throw a heap of knowledge at me and tell me sign the dotted line. Justin went through every step and explained to me everything that he was doing and exactly what was going on. I can vividly remember Justin calling me after my strenuous appointments to see how they went, and helping me in every way possible to not only get through my case, but to help me get better. Justin went above and beyond and not only treated me with respect as a client, but as a human and a friend. I can honestly say without a shadow of a doubt that if you give this man your trust and your time he will not only help you with your case, but give you the ease of mind and heart that you are being taken care of. Thank you Justin for everything you have done, I can't thank you enough.
-Severin C., Originally posted on Yelp
Integrity and Excellence - I was a passenger in an extremely horrible car accident involving multiple cars and a semi-truck. I sustained the worst injuries out of all the parties involved. I hired Mr. King to represent me for the duration of my case, which was 3 years. During this time, I felt I had made the correct choice in choosing Mr. King to represent me. I would receive constant updates regarding my case. Mr. King would make personal visits to my house and he helped to assist my family in anything that they needed. I felt he went above and beyond his station. I would consider him part of my family now. My entire case was extremely arduous, but I was extremely happy with the final outcome and with everything that Mr. King did for me. I would definitely recommend Mr. King to my family and friends. His integrity, morals and ethics are something to envy.
James, originally posted on Avvo
Justin H. King, Personal Injury Attorney – Fighting for Injury Victims in Fontana, CA

The plaintiff, by way of their experienced personal injury attorney or firm, files the personal injury claim, or lawsuit, seeking damages in the California civil court. "Damages" is a term used to explain different types of accident and or injury related expenses. Specific damages include, but are not limited to: Pain and suffering, Medical expenses, Property damage and or Lost wages.
Injury Attorney Justin H. King only focuses on personal injury, with a deeper concentration on victims of accidents resulting in catastrophic injuries. He represents victims of injury in Fontana, CA. Learn more about Attorney Justin H. King.
Justin H. King, Personal Injury Attorney that Represents Victims in Fontana, CA over a Diversified Spectrum of both Catastrophic & Serious Accident & Injury Cases.
Fallen Victim to an Accident or Injury in Fontana, CA? Attorney Justin H. King Can Help, Contact Him Now.
If you were recently a victim of a serious accident that resulted in traumatic injuries the Law Office of Justin H. King is here to help. Our office offers a confidential and no cost/no obligation consultation to help you better understand your rights as a victim of a serious accident or injury. Contacting our office is easy by way of our contact form or just a phone call away. Time in starting your fight for recovery after a serious accident is extremely sensitive so understanding your rights now can make the difference in your ability to recover the best possible outcome.
In California, you only have a certain number of years to file a personal injury claim after an accident or injury before being barred from filing. This is referred to as a statute of limitations. The time period in which you can file a claim or suit depends on your specific type of claim. If a person is barred, or prevented from filing, it is because the statute of limitations has ended.
Most types of personal injury claims have a statute of limitations of two years from the date the injury or accident occurred. This means if the accident happened on January 25, 2017, you have until January 25, 2019 to file your lawsuit. Personal injury claims involving property damage have a three-year statute of limitations. This starts the date the property damage occurred.
There is an exception to the two-year statute of limitations rule. It occurs if the injury is discovered after the statute of limitations ends. If you discovered your injury after your statute of limitations, you have one year to file. For example, you were involved in a car accident in February 13, 2017. The statute of limitations ended February 13, 2019. You did not discover your injury until June 15, 2019. You have one year from that June date to file a personal injury claim. Thus, the new statute of limitations would be June 15, 2020. In these time sensitive cases, it is always a good idea to initially consult with a professional and experienced personal injury attorney to fully understand your rights and responsibilities.
Another exception with the time to file a personal injury claim would be if you have a personal injury case against a government entity. Any claim against a government agency must be filed within six months of the accident date. If your claim is denied, you can then file a lawsuit in California civil court. Time limits still apply.