Represents Victims of Traumatic Accidents & Serious Injuries in Ontario, CA
Injured in Ontario, CA in an Accident that was Not Your Fault? Contact a California Injury Attorney. Mishaps, mistakes, and accidents in Ontario, CA happen all the time, probably on a daily basis. They are caused by anything from bad judgment to a simple misunderstanding. The accident you endured in Ontario may be no mere accident: It may be the basis of a personal injury claim.
A California Personal Injury Claim is Based on Wrongdoing and Those Standards are no Different for Victims in Ontario. To call the incident that caused your injury an accident is a misnomer. The accident that injured you could be classified legally as a personal injury. A personal injury is defined in California as an accident caused by someone else's wrongdoing. The wrongdoing is the basis, or foundation, of your personal injury claim. The person or company that caused your accident may have been doing something that fits into the following categories: Negligence, Defective or dangerous product and or Intentional acts.
Ontario, CA is well known not only in the Inland Empire, but also throughout Southern California. It is the home of many major industries, countless national retail chains, some of the largest shopping malls in the Country, and even an international airport. The city is great for logistics, warehouse distribution and trade since it is located between some of the largest and most traveled freeways and interstates in the United States.
Despite the growing economic status of Ontario, CA, serious accidents and injuries are still lurking and can change a victims life in an instant. Warehouses, large manufacturing and industry give way to potential workplace related accidents, while the busy trucking routes offer possibility of major auto and trucking accidents. Ontario also hosts some large medical facilities which could lay stage to any number of medical negligence mishaps.
Justin King is recognized as one of the preeminent personal injury litigation attorneys in the Inland Empire.  Justin has built his reputation, one case at a time, by vigorously and compassionately representing injury victims against insurance companies and Justin has achieved numerous six and seven figure results for his clients.
Justin has an AV Preeminent Peer Review rating from Martindale-Hubbell which is the highest rating a lawyer can receive for legal ability and ethical standards and is reserved for just 8 percent of lawyers nationwide.  In 2015, Justin was named by the National Trial Lawyers to its list of Top 40 Under 40 Civil Plaintiff Lawyers and in 2016 the National Trial Lawyers named Justin to their list of Top 100 Civil Plaintiff Trial Lawyers.  In 2017, Justin was named a Southern California Rising Star by Super Lawyers Magazine and as a Top Attorney in Southern California (Rising Star) by Los Angeles Magazine. Learn more about Attorney Justin H. King here.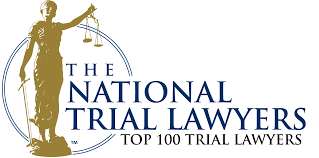 Wow, what more can I say about Justin King other than I am so thankful that I met him!
Justin King is not just a lawyer, he is someone that you can trust. When I first found out that I needed a lawyer for my case, I was a bit weary and quite frankly didn't know where to start. That all changed when I sat down and began talking to Justin. He didn't just glaze over my case, throw a heap of knowledge at me and tell me sign the dotted line. Justin went through every step and explained to me everything that he was doing and exactly what was going on. I can vividly remember Justin calling me after my strenuous appointments to see how they went, and helping me in every way possible to not only get through my case, but to help me get better. Justin went above and beyond and not only treated me with respect as a client, but as a human and a friend. I can honestly say without a shadow of a doubt that if you give this man your trust and your time he will not only help you with your case, but give you the ease of mind and heart that you are being taken care of. Thank you Justin for everything you have done, I can't thank you enough.
-Severin C., Originally posted on Yelp
Integrity and Excellence - I was a passenger in an extremely horrible car accident involving multiple cars and a semi-truck. I sustained the worst injuries out of all the parties involved. I hired Mr. King to represent me for the duration of my case, which was 3 years. During this time, I felt I had made the correct choice in choosing Mr. King to represent me. I would receive constant updates regarding my case. Mr. King would make personal visits to my house and he helped to assist my family in anything that they needed. I felt he went above and beyond his station. I would consider him part of my family now. My entire case was extremely arduous, but I was extremely happy with the final outcome and with everything that Mr. King did for me. I would definitely recommend Mr. King to my family and friends. His integrity, morals and ethics are something to envy.
James, originally posted on Avvo
Attorney Justin H. King, Personal Injury Only – Advocating for Victims of Serious Injury in Ontario, CA

Damages in a Personal Injury Accident in Ontario Depend on the Injury
An intentional act personal injury claim involves an at-fault party doing something on purpose to harm the accident victim. The intentional act can be an assault or battery. A defective product injury claim involves a product causing an injury when use the correct way. The company that makes the product is strictly liable for any injury the product causes.
Regardless of the type of personal injury claim you have, you can receive damages such as: Medical bills, Pain and suffering, Lost wages, Decreased earning capacity and or Property damage or more.
The Law Office on Justin H. King only does one thing, Personal Injury. Attorney Justin H. King further has a deeper concentration on those who have been victims of accidents resulting in catastrophic injuries. He represents victims of injury in Ontario, CA. Learn more about Attorney Justin H. King.
Covering a diverse set of cases within the Personal Injury spectrum Attorney Justin H. King fights for victims of serious and traumatic accidents and injuries.
Has a serious, traumatic or catastrophic accident or injury occurred in Ontario, CA? Personal Injury Attorney Justin H. King can help!
Negligence is the Failure to Act as a Reasonable Person Would in a Similar Circumstance
Negligence is the most common type of personal injury claim in California and no exception in a major metro area like Ontario. It involves the failure of the at-fault party to act as a reasonable person would in a similar and/or same circumstance. California personal injury laws and the local San Bernardino Court has a standard, called the reasonable personal standard, which it uses to define negligent acts.
For instance, an at-fault party ran a red light and crashed into your car. The court would determine whether that persona is really at fault by comparing his or her actions to the imaginary reasonable person. In this standard, the reasonable person always does the right thing. Therefore, if a reasonable person would have stopped at the red light, the at-fault party would be considered negligent for failing to do so.
In addition to the reasonable person standard, negligence also involves a legal duty. A legal duty is the responsibility each person has while doing everyday tasks to prevent harming others. For instance, a physician has a legal duty to a patient. A driver operating a motor vehicle has a legal duty to the vehicle's passengers, other drivers, and pedestrians sharing the road.
Proving the at-fault party is responsible for your injury involves proving he or she had a legal duty to you in the first place. In fact, it is the first step in establishing the claim. A legal duty is the responsibility of not causing an accident that injuries someone.
In a negligence claim, an injured victim must prove: The at-fault party had a legal duty to avoid causing harm, the at-fault party breached that legal duty by causing an accident, the at-fault party's negligent action was the reason the victim was injured and or the accident victim is owed damages.
If you or someone you love has recently fallen victim to a serious accident that resulted in a traumatic injury in or around Ontario, CA, then Personal Injury Attorney Justin H. King can help. Insurance companies and their employees have a goal to settle and pay out as little as possible. Having experienced representation fighting for you can make the difference in your recovery. All personal injury cases are time sensitive and contacting a professional and experienced personal injury attorney sooner than later can have bearing on your fight and importantly your recovery.