Personal Injury Attorney Representing Those Who Have Been Seriously Injured in Eastvale, Ca
Eastvale Personal Injury Attorney Justin H. King
Do You Need to Protect Your Legal Rights After an Accident? Accidents and injuries can happen without notice, and when they do it is important to understand that your rights as a victim are not automatically protected. The negligent party, insurance companies and other third parties involved do not always have your best interest as a priority. It is also important to know that there are crucial requirements, factors and timelines that have to be met to provide the best possible chance at a successful injury claim. A personal injury attorney can help with all of these aspects and immediately go to work protecting your rights as an accident or injury victim.
Justin King is recognized as one of the preeminent personal injury litigation attorneys in the Inland Empire.  Justin has built his reputation, one case at a time, by vigorously and compassionately representing injury victims against insurance companies and Justin has achieved numerous six and seven figure results for his clients.
Justin has an AV Preeminent Peer Review rating from Martindale-Hubbell which is the highest rating a lawyer can receive for legal ability and ethical standards and is reserved for just 8 percent of lawyers nationwide.  In 2015, Justin was named by the National Trial Lawyers to its list of Top 40 Under 40 Civil Plaintiff Lawyers and in 2016 the National Trial Lawyers named Justin to their list of Top 100 Civil Plaintiff Trial Lawyers.  In 2017, Justin was named a Southern California Rising Star by Super Lawyers Magazine and as a Top Attorney in Southern California (Rising Star) by Los Angeles Magazine. Learn more about Justin H. King here.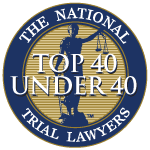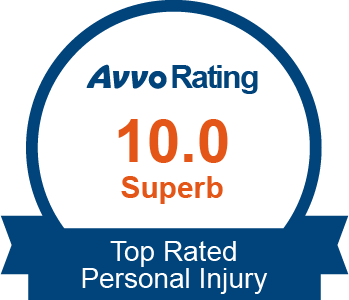 Personal Injury Claims for Victims in Eastvale
An accident or injury in California involves an incident that results in damage to your person(yourself), property, or even both. The incident may have occurred due to the negligence of another party, an intentional act of another party, or a defective product. The other party could be an individual, a corporation, a business, governmental agency or other. In situations where another is responsible for the accident and or injury, under California Law, personal injury claims can be pursued. In these situations it is important to understand your rights as a victim to keep them from being disregarded by others. All types of accidents and injuries have their own circumstances, but a personal injury attorney will understand how to navigate your case towards the best possible outcome.
Common Reasons Accidents or Injuries Occur in Eastvale, CA
Negligence, in California, happens when someone (a person or entity) has failed to act the way a reasonable person would have in the same situation. Generally, a reasonable person will act in a manner to avoid causing an accident or injury to you. Negligence is when the presumed "at fault" party did not act in this manner. Due to this lack of action, California civil code classifies this person or party as liable for your accident and related expenses and damages. Compensation recovered could include one or a combination of: medical costs, any property damage sustained, lost income and even monetary compensation for pain and suffering. With accidents or injuries resulting in death, additional compensation may be recoverable such as funeral and burial costs by way of a wrongful death claim.
Intentional acts by a party or person to a victim who suffers an injury can also lead way to personal injury claims. After an incident resulting in harm, that was intentional and damages occurred to your person or your property, you may be able to fight and recover compensation under California law. Intentional acts, in California, are typically classified as a criminal act in which the parties responsible can be held accountable both criminally under the California penal code, as well as legally responsible under California civil code. It is important to note that each claim are for the most part separate from each other and even held and tried in separate courts. Nonetheless, the responsible party can be ordered to pay damages to the victim either by settlement or court jury trial or order. 
A personal injury claim by way of defective product is commonly referred to as "Products Liability". These claims involve a victim of an accident or injury that happened while using a product the way the manufacturer had intended. "As intended" meaning within the normal operations and within the outlined instructions of the product, specifically the normal function and use of it. Inherently the product had a defect either in design, or production, but either way if damages were sustained a claim can be pursued. These types of claims are complex and a personal injury attorney with the experience of products liability can provide more specific information as to the requirements and options available to file claim. 
More About Negligence Claims for Victims in Eastvale
Of the three common types of claims listed above, Negligence is the most common. California Civil Courts, including Riverside Superior, use the "Reasonable Person Standard" as described above as a benchmark in determining or assigning fault/liability in personal injury claims.  Even further than this would be understanding that each person has a legal duty or responsibility to go about their day and proactively work to prevent harm to others. An easy example, where many injury claims come from, would be automobile drivers. They have a legal duty to operate their motor vehicle in a manner to keep safe their passengers as well as others on the road like other motorists or pedestrians.
Recovering compensation often involves proving that the other party had a legal duty to you in the first place. Without this requirement, many claims cannot be pursued. The total burden in these claims can be summed up as follows: The party at fault had a legal duty to the victim, that party breached their duty which resulted in the accident or injury, thus that parties negligent action was the cause of the victims damages.
Wow, what more can I say about Justin King other than I am so thankful that I met him!
Justin King is not just a lawyer, he is someone that you can trust. When I first found out that I needed a lawyer for my case, I was a bit weary and quite frankly didn't know where to start. That all changed when I sat down and began talking to Justin. He didn't just glaze over my case, throw a heap of knowledge at me and tell me sign the dotted line. Justin went through every step and explained to me everything that he was doing and what exactly was that was going on. I can vividly remember Justin calling me after my strenuous appointments to see how they went, and helping me in every way possible to not only get through my case, but to help me get better. Justin went above and beyond and not only treated me with respect as a client, but as a human and a friend. I can honestly say without a shadow of a doubt that if you give this man your trust and your time he will not only help you with your case, but give you the ease of mind and heart that you are being taken care of. Thank you Justin for everything you have done, I can't thank you enough.
-Severin C., Originally posted on Yelp
I was a passenger in an extremely horrible car accident involving multiple cars and a semi-truck. I sustained the worst injuries out of all the parties involved. I hired Mr. King to represent me for the duration of my case, which was 3 years. During this time, I felt I had made the correct choice in choosing Mr. King to represent me. I would receive constant updates regarding my case. Mr. King would make personal visits to my house and he helped to assist my family in anything that they needed. I felt he went above and beyond his station. I would consider him part of my family now. My entire case was extremely arduous, but I was extremely happy with the final outcome and with everything that Mr. King did for me. I would definitely recommend Mr. King to my family and friends. His integrity, morals and ethics are something to envy.
Injury Attorney Justin H. King – Representing Victims in Eastvale & Throughout Riverside County

Seriously Injured in an Accident in Eastvale, California? A Personal Injury Law Firm can be Your Legal Advocate. If you sustained an injury from an accident in Eastvale you may be able to recover compensation. You may have been treated by a doctor and developed a new condition or your existing condition worsened. This may be grounds for a medical negligence claim against the doctor or hospital. Were you hit by a negligent or distracted driver? Auto accidents in Eastvale can lead to injury claims against the at fault party or their insurance carrier. No matter the seriousness of your injury, under California law, you may be able to pursue damages for personal and property damages and more. Time is urgent, so seeking legal council now to protect your rights is important.
Justin H. King specializes in all types of personal injury matters, with a particular focus on cases involving catastrophic injuries. His office and staff are located in the Inland Empire and serve victims in Eastvale, CA.  Learn more about Personal Injury Attorney Justin King.
Personal Injury Attorney Representing a Wide Scope of Catastrophic & Serious Injury Cases
Time Frame for Victims in Eastvale to File Injury Claims
Within California law, there are specific and binding time frames in which a victim can file to pursue damages for accidents and injuries. For most claims this time frame window ends at the 2 year mark.  This is known as the Statute of Limitations. This time frame starts the date that the property damage occurred. An exception to this 2 year window would be related to the discovery. If injuries or damages are found after the statute of limitations has run out, California law will provide you 1 year to file your claim. This is to protect victims who may not have knowledge of injuries or damages right away.
Another exception to the Statute of Limitations in California with regards to injury claims would be claims against governmental agencies. These claims must first be filed with the agency within 6 months. If your claim is denied you are then allowed to file a traditional injury lawsuit, but the statute of limitations still applies there too.
Because California Statute of Limitations is essentially a "Hard Stop" date, it is extremely important to consult with a personal injury law firm after any incident regardless of what you think may or may not happen. An injury lawyer can help explain the process as it applies to your situation and protect your rights.
Contact Eastvale Injury Attorney Justin H. King: Never an Obligation and Always Confidential
You May Be Able to Settle or Have to Pursue a Trial to Recover for Damages After Injuries
Two options in California to recover compensation after an injury is either a settlement with the other party or insurance, or a formal court trial through your superior court. While going to trial may result in a much higher and beneficial final outcome, there is some risk associated with proving your case. Trials can takes months to years to complete depending on the specifics of the case as opposed to settlements which can result in resolution within weeks to months.
Settlements avoid the court process altogether. The at fault party, or likely their insurance will make an offer on what they will pay you to settle the claim and you release all interest in being able to go to court later. Essentially the claim is closed and settled in exchange for you releasing interest in it. Settlements should always be reviewed by an injury attorney to make sure that current injuries, future cost of care, lost wages and more are accounted for. A law firm who handles personal injury claims will know what is a fair settlement for your injury. This is important because you are barred from going back later to sue or attempt to collect more damages.